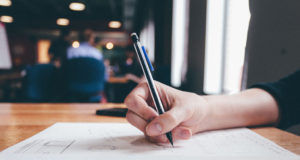 Do you have a story that you've always wanted to tell? Now's the time! In November, the Uniontown Public Library will celebrate National Novel Writing Month (or NaNoWriMo) — an event that encourages participants to write a 50,000 word novel in just 30 days.
In addition to group writing sessions in November, the Library will host events before the start of NaNoWriMo to help you plan your book. We will also offer a post-NaNoWriMo event in December to discuss what you might do next with your project.
All of the events described below are free and open to the public. Writers of all genres and experience levels are welcome. Take this opportunity to meet other writers, explore your creativity, and finally pen that novel!