About This Exhibit
An Honorable Vengeance: The Dukes-Nutt Saga was developed by Pennsylvania Room volunteer Rachel Zajac and curator Maria Sholtis. We extend our gratitude to Andrew Porwancher, author of The Devil Himself, and to the Fayette County Historical Society for their contributions to the exhibit.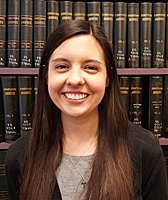 Rachel Zajac researched and developed the written content for An Honorable Vengeance and selected the exhibit's historical media.
Rachel graduated from the Pennsylvania State University at University Park with a bachelor's degree in history and a minor in dance. She is currently obtaining her master's in Library Science with a focus in archiving from Clarion University of Pennsylvania. Previously, Rachel volunteered at Fort Necessity National Battlefield and the Coal and Coke Heritage Center. She currently works in the records management department for the county clerk in Monongalia County, West Virginia.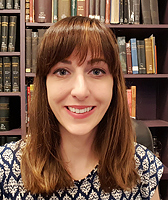 Maria Sholtis guided the development of An Honorable Vengeance and provided web design via WordPress.
Maria is the curator of the Pennsylvania Room at the Uniontown Public Library, a career that brings her in touch with historical mysteries on a daily basis. She holds a Masters of Fine Arts from the University of Pittsburgh. In addition to her duties in the Pennsylvania Room, Maria is also the coordinator for the Library's 2017 Author Series and Writers Workshop. 
Exhibit Design
Apart from the photos from the Fayette County Historical Society exhibit, all of the media in this digital exhibit was acquired from the Pennsylvania Room at the Uniontown Public Library. Sources included newspapers on microfilm, contemporary publications such as "Lizzie Nutt's Sad Experience," and materials from the papers of local historian James Hadden.
The background patterns for this exhibit were adapted from images provided by Subtle Patterns.